I'm about to head up to bed but I feel like pouring my heart out this week.


I am not even 100% sure where this post will be heading, but I have some stuff on my mind and figured, hey, what the heck, right?


So, here I go ...


Sometimes I wonder what it is that I have done to make certain people dislike me so vehemently. Amazing, isn't it? I mean, I spent many years of my life as friend to all. Or to most. I've made friends online, long before it was the popular thing to do. I've met people through school and work and whatever other outlets I have had before me and I've never made enemies. I've volunteered and worked with men and women, both, and never had anyone question my motives to the extent that I'd be looked at as someone only out for me.


And yet, sometimes, nowadays, that is exactly the way I am approached, categorized or seen. And it amazes me. It amazes the hell out of me, if I am being truly honest with you all. Which, as those who know me can see and vouch for, I tend to absolutely do.


Especially when I Pour MY Heart Out here, in my own sacred space.

I am reminded of why although my "best" friends in high school and before then were female, my closest friends (save a handful) after that - in high school, moving along into college and then the workforce, were male. Many of my closest friends to this day are male.

My husband and I were discussing this last night, as I said that I couldn't imagine and am so grateful we are together and neither one of us has any issue with the other being friends with people of the opposite sex. But that's a whole 'nother post.

This one is about why I tend to be friends with men over women, or at least why I used to be that way. Women play more games than men do. Women show their insecurities in ways that are unfair to other women. Women get petty and backstabbing, and women read way too much into things that aren't even there.

So while I am a woman, and proud to be one, I also freely admit that I can be guilty of some of these things, myself. But what I don't understand is when a threat comes into play. Am I someone who has something YOU wanted? Someone who is the way you wish you were? I am not jealous or envious of you - unless you have George Clooney, Mark Wahlberg or Paul Walker waiting on you hand and foot (then maybe I'm seeing green!) - I am me, you are you. You're crazy, I'm crazy. We're both a little neurotic and controlling, maybe a bit OCD. If we're being open and honest here. I'm overweight, you're too thin. I have a daughter, you have a son. I have one child. Two children? Three? More? What's it matter? We are who we are - and we are who we should be.

Please remember that the next time you turn to me and lash out. Or the next time you take a minute and make me feel shitty. Remind yourself that I am human, too, and I am who I am and who I want to be. And so are you. And I don't slight you or want to hurt you for that. I want to support you, but if you don't turn around and offer anything to me in return, I won't be able to. And instead, I'll turn away. I'll walk away. And it'll be your loss. That's one thing I can promise, without fail. It'll be you who loses at that point, because having me on your side, having me at your back, it's something that kicks ass. And you should consider that before you chalk me up to one who doesn't deserve consideration. Trust me. Because I'm nice and I'm sweet and I'm not one of those bitchy people. But if you cross me, well, let's just say that I'm not so nice anymore.

And I hope you don't ever have to see that girl. Because short and sweet are fun sounding words, but I'll put them away if I have to. Just try me.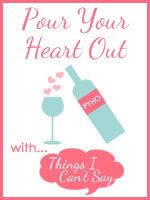 Disclaimer: This post is not really a direct letter to anyone, it's more of a way for me to address the way certain people make me feel sometimes and my struggle with understanding why. When I'm a friend, I'll be one for life. I'll support you and listen whenever you need me to. And if it's not going to work for us, we'll move on. But we'll survive. But sometimes, whatever it is, it's just not meant to be. So for someone to turn around and hash through how I express what I am feeling, well that part sucks. And for someone to have their own issues impact how they treat me, that's hell in and of itself. And it's unfair. It's something we all deal with now and then, but it's not cool and it should be something we all stop to recognize when it's the mask we're wearing for the day.