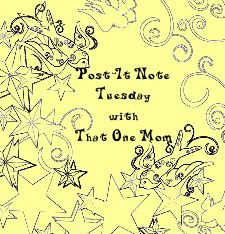 It's Post-It Note Tuesday today. I started off with some pretend PINs, some fun ones I was trying to make myself, but instead my daughter took over. It figures, right?


I'm totally OFF today. I don't feel like dealing with superstickies, but I have a lot I can say to plenty of people, so let's just envision post-it notes all over my lovely 'hood for you all to see -- OK?


First:


CHILD. PLEASE STOP DRIVING MOMMY TO DRINK. I AM NOT IN THE MOOD FOR WINE AT 11AM, OR AT 1PM, OR, TRULY, AT 5:17 PM, EITHER. BUT IF YOU DON'T SLOW THINGS DOWN A BIT I MAY CRACK OPEN THAT BOTTLE SOONER RATHER THAN LATER. I LOVE YOU, ** YOUR MOM


Wow. This is awesome. No character limits!


Second:


DOG of MINE,
Make up your freakin' mind, please, as to whether or not you want to be in or out. Because while I enjoy the unlimited exercise you provide for me daily as I walk to and from the kitchen door, sometimes it grows really old. As in REALLY fast. Seriously. I love you, ** The Hand That Feeds
p.s PLEASE STOP CHASING PLANES. We've lived here almost four years, have you not yet realized you are not going to catch one?
Third:


Hey, Kiddo -- by the way, I'm getting a little tired of cut up pieces of paper all over the kitchen table, floor and the living room. No more scissors. EVER. End of story. I love you! *Mommy


Oh, lookie at this, exactly as I am typing this out AT said table, the child is on a stool in the kitchen looking for her scissors. SWEAR TO GAWD. No joke.


Fourth:


To my dear, sweet, 3-1/2 year old beautiful little girl,
That grunting and face-making you do when I tell you no and make you stop doing something is not going to get you very far. Not with me, not with your father, and it's certainly going to hold you back from becoming a beauty queen, cause, ya know what? Your face might freeze that way. Or worse, I'll take pictures and use them when your future friends come over, future love interests, and campaign managers. Oh, don't push me, I MEAN IT.


And Lastly:
Dear Hubby,

I appreciate that you warned me you'd be headed out after work tonight. I am OK with you going, even though you just called me at 5:15 to remind me. I just have one question? How is it that when you leave work to go out you're out the door and on your cell at, oh, yes, 5:15? And when you're coming home to us the phone rarely rings before 6:30PM? It's interesting, isn't it? Just something I thought I'd point out ... Love you!


So, there you have it, peeps. My pretend Post-It Notes for today. Oh, wait, let me show you what I was trying to do earlier. If I can find them. Yeah, here are two, I tried a few but didn't save the first two correctly. Good times ...