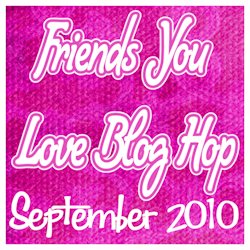 I'm a little slack this Monday morning, and I don't have a guest poster for our
Friends You Love
bloghop today ... but that doesn't mean YOU can't participate!


If you've already taken a peek at our fun and friendly site, then you know that this month is about building friendships and making our existing friendships stronger.


And to help everyone out in Bloggy-land do just that, we are challenging you to dig into your "followers" list and find a follower you don't know well (someone who doesn't comment regularly) and reach out to them and ask them to do a guest post on YOUR blog. Link up with your guest post and have your new friend (guest poster) link up as well.


And if that made you a little dizzy, it's OK. I was a little dizzy myself at first. Aw, heck, I still AM!
(Yes, yes, my friends. I know. I often do appear a bit dizzy. What of it?) Basically, you have a guest poster post for you. You link up. She links up to you. Everyone links up to Friends You Love and we have a huge and fun connection of loads of new peeps across the Blogosphere. Ya follow? Well, you should!

We [The Friends You Love peeps!] will be running this blog hop every Monday this month, so spread the word, spread the love, and gosh-darn it, go make some new friends!