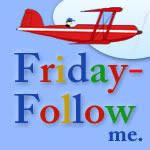 Did you know it's Friday Follow Day? I figured what better kind of post than this to show any new friends how much I like to talk. And streamline my thoughts when I post. Head on over by clicking the airplane button above for more info and to meet new friends!

Now, back to your regularly scheduled programming:

** I originally wrote this post a few weeks ago, which is obvious, as our possible yard sale is now TOMORROW. I just got overwhelmed with the ups and downs of bloggy world, and held back from posting until today. I'm still itching to redecorate, though, so we'll see what happens this weekend!**

Ah, Redecorating ... Nope, not the blog this time. My house.


We got a flier in our mailbox yesterday telling us that our community yard sale is going to be held on June 6th. Or the 5th. Whatever - it's two weeks away. That's better notice than the usual 1 week they've given us. And no, I'm not kidding.


Anyway, hubby and I have been talking about ridding our lives of these ...
OK, so I was supposed to post a picture of DVD holders here, but I am too damned lazy to do that for this post. They're skinny and tall, and shake whenever the child goes near them. Preemptive damage control has us wanting to get rid of them, asap.


And I mentioned to him that maybe we could sell them at the yard sale. But for how much? I said we charge two for $20, and let them haggle us down to $10. He said start at $10. Maybe we'll meet in the middle at $15? We want them gone because the child has regressed, and is attracted to DVDs again, but now she goes for her own, and these things are so not stable. At all.


Anyway, where the heck would we then put our DVDs? We have a flatscreen, and it's on a
Corner TV Stand,
from IKEA. I think ... it's pretty old, so I forget where it's from. It's not as low as the one in the link, but it has a door on it, and a section that *should* be shelves, but they're missing, so we have a small table in there that holds the cable box and the DVD/VHS player. So, where are your DVDs? Do you have shelves? I'd love something like
this
but for DVDs! It's almost like artwork! And yet, there is no way in heck I'd be climbing over things and stretching up to the wall to reach my entertainment options. Who am I kidding?


I also really want to bring some of the toys that are in this same living room and get them upstairs into what is currently our office, and turn that into a playroom. I've been saying that for months, now, but the office is now our laundry room since our dryer isn't working (and hasn't been for months, anyone have a dryer you absolutely LOVE and think I must purchase? Tell me now!) and so the drying rack is in the office. And what to do with hubby's desk that's up there, as well? Maybe it stays in the "playroom," who knows?


And I can't exactly relocate our laundry to the guest room just yet, considering my friends and I are dismantling our business, and so I've been using that room to sort through inventory out of the reach of tiny little furry paws. But maybe June will be the month of cleaning and organizing? And then maybe we'll even tackle half of the garage. Yeah, just half. One half has shelves and whatnot that I can barely get to. The other half has our boat. Hubby did mention putting a huge tag on that, as well, but I'm thinking nobody's going to be carrying that kind of cash on a Saturday morning!


Lastly, should I get something like this bookshelf for the supposed-future-playroom? Or should I get my daughter a kids' picnic table instead? We already have a bookshelf that my in-laws made for her, but the kid has so many books it's beyond being remotely funny. Think I'm bad? Yeah, well, I am. I'm just worse when it comes to her! Maybe instead of the bookshelf thing I'll go with the picnic table (anyone have one from Little Tikes? Like this one? Do you love it?) and try to get these rain gutter bookshelves that my friend Gabby has for her lil man done someday. I'd SO love to, but think hubby would be ready to kill me! They're super cute, though, aren't they?


Anyway, that's that. I'm all over the place, but felt like rambling. Take any question I've asked here and feel free to answer in the comments, or answer them all, whatever suits you. Thanks for listening. And I'll keep you posted on my decorating dilemmas.