So I was writing up a list for someone this morning and figured why not just post a small book-related summary of faves here?


Some of my ALL TIME FAVORITE BOOKS EVER:

The Red Tent, by Anita Diamant

Good in Bed, by Jennifer Weiner

My Sister's Keeper, by Jodi Picoult

The Middle Place, by Kelly Corrigan


And more recent faves:

Firefly Lane, by Kirstin Hannah

The Girl Who Stopped Swimming, by Joshilyn Jackson

On Folly Beach, by Karen White
The Help, by Kathryn Stockett


Authors I totally love almost everything they've written:

Jennifer Weiner

Jodi Picoult

Sarah Addison Allen


Also, today is the last day of the Spring Reading Thing that I posted about here.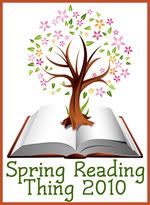 I did not read all of the books on my list for the challenge, but I did read some of them, and many others that I hadn't even considered reading at the time this challenge began. I have marked those from my list that I did complete and then some ...
My completed list for the Spring Reading Thing 2010:


1.

When you Eat at the Refrigerator Pull Up a Chair,

Geneen Roth

2.

No Dress Rehearsal,

Marian Keyes [from list]

3.

You Can't Drink All Day If You Don't Start In The Morning,

Celia Rivenbark

4.

Knit Two,

Kate Jacobs [from list]

5.

On Folly Beach,

Karen White [from list]

6.

Our Promised Land,

Michael T. Darkow [from list]

7.

Inconsolable: How I Threw My Mental Health Out With the Diapers,

Marrit Ingman [from list]

8.

The Accidental Mother,

Rowan Coleman
[from list]
9.

Jane Austen Ruined My Life,

Beth Pattillo
10.
Skinny
is
Overrated,
Dr. Danielle Milano
11.

Saving Max,

Antoinette van Heugten
12.

The Imperfect Mom,

Therese J. Borchard
13.

Never Let You Go,

Erin Healy
14.

The Help,

Kathryn Stockett
15.

The Second Nine Months,

Vicki Glembocki
16.

The Girl Who Chased the Moon,

Sarah Addison Allen
17.

Deep Dish,

Mary Kay Andrews
18.

The No-Cry Potty Training Solution,

Elizabeth Pantley

And those from my list I didn't get to ...
YET!
**

Belong to Me/When Love Walked In,

marisa de los santos
**

The Whole World Over,

Julia Glass
**

True Colors,

Kristin Hannah
**

Further Under the Duvet,

Marian Keyes [Still working on it!]

But maybe I'll carry those over to my friend Julie's Summer Reading Challenge:



Here's my list of TO-READS for this summer:
**

True Colors,

Kristin Hannah
**

Between Sisters,

Kristin Hannah [read!]
**

Mr. Darcy Broke My Heart,

Beth Patillo
**

The Lost Symbol,

Dan Brown
**

The Last Girls,

Lee Smith
**

Best Friends Forever,

Jennifer Weiner [read!]
**

Dreaming in Hindi,

Katherine Russell Rich [still reading]
**

Finding Marco,

Kenneth C. Cancellara [reviewed]
**

Freedom's Call,

John Walker
[read!]
**

Seven Year Switch,

Claire Cook
[read!]
**

A Wild Ride Up The Cupboards,

Ann Bauer
**

Life's a Beach,

Claire Cook
**

My Summer of Southern Discomfort,

Stephanie Gayle [read]
**

The Center of Everything,

Laura Moriarty
**

The Particular Sadness of Lemon Cake,

Aimee Bender
**

The Price of Revenge,

Dennis Vaughan
**

The Whole World Over,

Julia Glass
**

Men and Dogs,

Katie Crouch [read!]

And on top of all of that I hope to get my book swap going this summer, as well. Stay tuned for more details. And please come on by, comment, etc. Tweet me! Whatever it takes. LET'S TALK BOOKS!