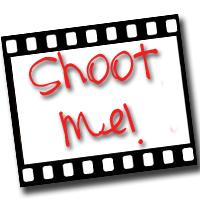 OK, so I'm a mega-slacker, and I'm not doing 52 straight weeks, but ideally I'll get 52 shots of me over the course of however long and be happy to have done it. And most especially happy to post today.

Because I have some exciting news as I post my Shoot Me post this week, following Forever in Blue Jeans!
I chopped off my hair yesterday!!! SERIOUSLY chopped! I love the fresh new 'do. It makes me happy and makes my head feel so much lighter. Which, considering she chopped off four ponytails, two were 13" and two were 15" ... is not surprising!

And for reference, these two shots are from about a month ago, when I was planning to go in and chop it all off, but couldn't get in to see the person I wanted and trusted!