With all this talk about Friendships these days, I have some more confessions on my mind and in my heart. And so, what better way to share those than by post along with Shell today over at: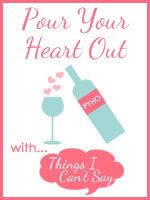 See, friendships are one of the most important things in this woman's life. And by this woman, I mean me. ;) I have my best friend (if you haven't seen my post on her, head
here
for more on what she means to me!), and I, of course, have other friends I've met throughout my life.


===


I started this post much earlier in the day today. And I was honestly feeling so negative that I just couldn't finish it. I went over and read Shell's post on her site, and it tugged at me in such a way. Then I went to see Single Mom in the South, and she tugged at my heart, as well. And between the two of them, and my own emotional status, I just couldn't finish. I think I was wallowing in some modicum of self-pity. I recently lost some friends. I guess that's the way to describe it. I've been down this road before. With two of my closest friends (there's an old post about that on my blog somewhere, maybe even a few - but I'm not going down that road right now) from back home. And I've lost track of people here and there, only to find our way back to one another as time went by. And those people, those are the truest of friends.


And the reason I've changed my perspective on this post right now is my 3-1/2 year old daughter. Who, just now, while sitting at our table and eating lunch, somehow had a memory of one of my very best friends. And while not in my life as long as my BFF from childhood has been, she comes pretty damned close.


So, what has my daughter done to change my tone today, you ask?


She started talking and began describing for me, in detail, an experience that I just could not remember. "When we saw the boy with the two dogs. And the baby." Okay ...? "And there were the dogs. And Dexter got to see the two dogs. Can we take Dexter to see the dogs?" Not baby Grace? [Recently went to see a friend's new baby, and they have two dogs.] "No." Munch munch. Chew chew. Sighing and thinking and head-scratching on my part. No clue. "And there was a baby." A boy and a baby? And two dogs? "Ah-ha. And we went to Nana and Zeide's (my parents) and then we went to Meme and Papa's, (hubby's parents) and we saw the two dogs and the boy and the baby." We went to see the two dogs with Nana and Zeide? "No."


And you get the picture. Finally, it hit me. The boy, the baby, the dog = my friend in Connecticut. My friend from college who - on our way home to NY from ME - we called, asked what she was up to and said, can we come by? She said yes. Immediately. We hadn't seen one another since last summer, and before that it was even longer, WAY too long. We went over, hung out in their backyard, got some quality friend time in. My kiddo loved her little boy (her first crush on an older man, I suppose!) and played in the backyard. It was a much needed break after hours upon hours of driving. The husbands went out to pick up pizza, we chatted for hours. Reminisced, talked about our kids, our friends (she had just had the fun time of spending the few days before with our college crew on our annual girls' weekend - I was WAY jealous, but still thrilled to get some time in with her!) and laughed like only she can make me laugh.


So you see, while other friendships may come and go, and my college friend might not live less than five-six-hundred miles away, she will always be an incredible strength and support for me, and always be one of my best friends.


And when I next feel like throwing my very own pity party I'll have to remind myself that I have quality friends who love me for who I am, who know me heart and soul, and who are there to listen whenever I need them, and I'll do the same in return. Whether the topic ranges from postpartum recovery to breastfeeding problems, or behavior issues that lead to our tearing our hair out, we're there to listen to one another, support each other and offer words of wisdom and encouragement, even if we're making them up along the way!


So, find a friend who means that much to you. Call her up (I plan on calling mine shortly - I think she's just getting home from work now) and tell her how much she means to you. How much you love her and how much you wish you were that much closer in distance, but it will never impact the closeness that you feel in your heart and head.
Friends are forever when they're forever friends.