It's Friday-Follow today, because, well, it's Friday. D'uh!
Follow the airplane to look for some new bloggy friends.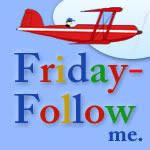 So, how EXCITED is everyone for GLEE? 19 Emmy Nominations! Nineteen! How amazing is that for their first time up? Mega Yahoooooo to all the Gleeks out there at how exciting this is!


Here are three of their actors who were recognized for their amazing portrayals on this incredible show.
Obviously I'm low on motivation to post today, so I figured I'd applaud these peeps from my own *home.*

**Images obtained off the web by doing a Swagbucks search!**