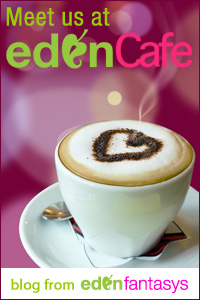 I'm not sure what it is about that banner I chose to go with this post today, but it just makes me feel warm and fuzzy inside. So I figured I'd choose it and focus on a few warm items over at EdenFantasys tonight.


Like this heart-shaped warmer, for starters. Indicated as a great *toy* it has also been described as great for cramps, wonderful for warming your hands and feet, basically it's like a mini hot water bottle in a tiny sized heart. I wonder if it can also be used as an ice pack for sore muscles?


And another search of "heat" on their website brought me a wonderful (and affordable!) basket of love, filled with goodies like edible body paint, body heat massage lotion, and two or three more items, for only $15.99!


So as you wait patiently for the weather to warm up, why not check out the EdenFantasys website for some heat inspiring products to get you through this damp and chilly spring?


** At the time of this post I have not been compensated in any way. However, I should be receiving a code for a giftcard in exchange for posting
about EdenFantasys.com.
I was not required to discuss any of these products for my post, but figured I'd pick out some items that might be of interest to my readers. **